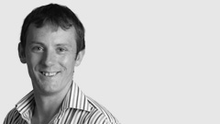 Chris brings years of industry experience to the Ray White Straddie team, as a successful agent Chris is patient and persistent, working diligently at all times to surpass expectations. He relishes the challenges of the super competitive marketplace in which he operates and takes great pride in the ethical standards which underpin his dealings with everyone he comes in contact with. Excellent customer service and sales are the hallmark of his success as a local estate agent.
With a strong work ethic and excellent people skills, he understands the important factors surrounding a sale and ensuring every commitment made to his vendors is upheld. Chris loves the area he and his family call home - the community dynamic and its people. We are delighted to have Chris represent our clients at Ray White Straddie, whether buying, selling or leasing call Chris you will be delighted with his professional approach and outstanding results.
Agent Reviews
Alan

Chris was a great help through the whole experience his knowledge of the Island and contacts he passed onto us when we needed help were invaluable.